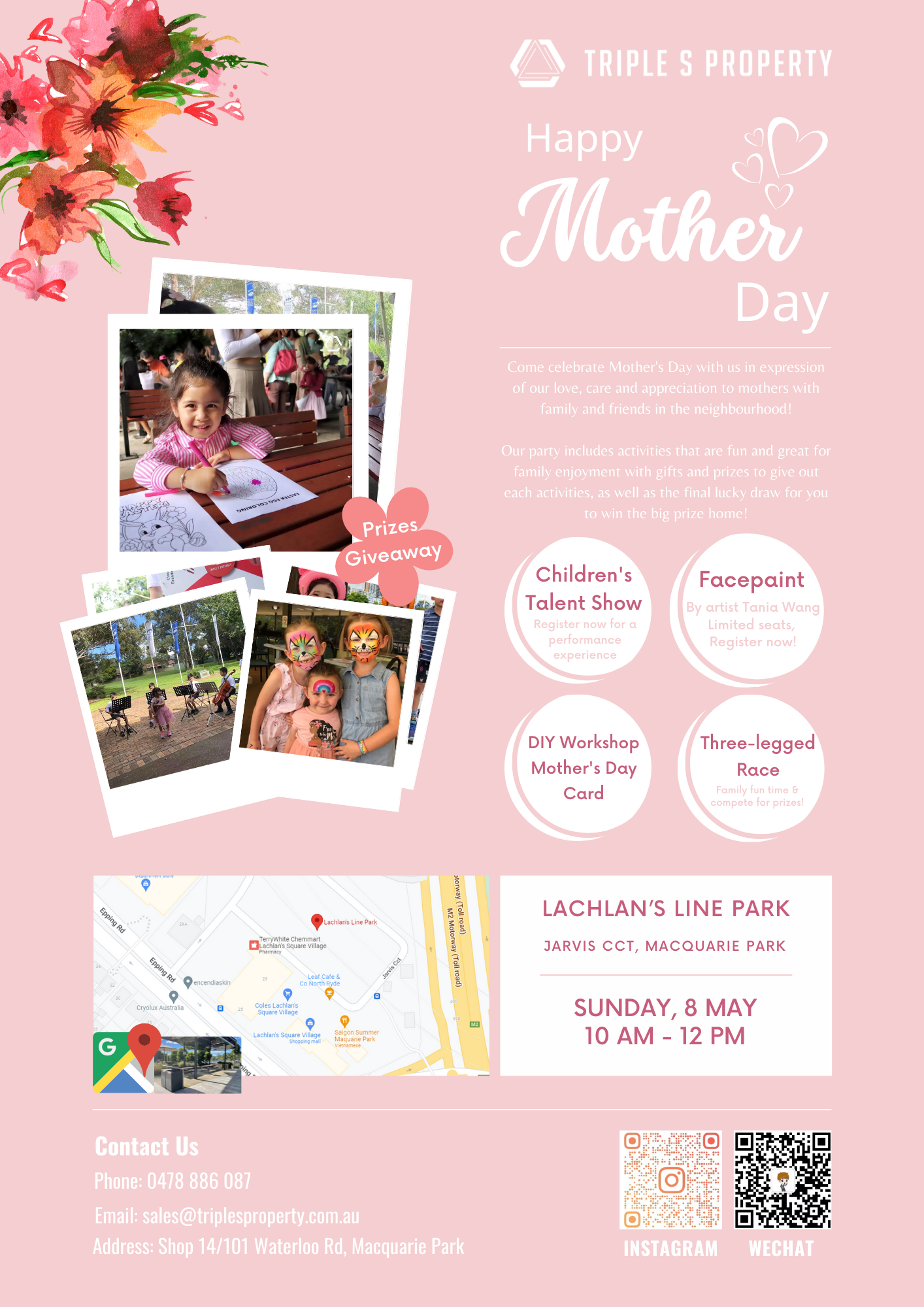 Mother is always a figure of love, support, and caring. Someone you can turn to when you come across challenges that you are yet able to overcome on your own. It is our mothers who welcome us to the world, show us the first lesson of affection and unconditional love, and continuously guide us through the stages of life as we grow.
"Moms are the people who know us the best and love us the most."
As Mother's Day is near, how would you like to thank mom in appreciation for her support?
We have prepared a Fun · Giving Party for families who'd like to enjoy quality family time in celebration of moms' biggest day of the year. Share and spread joy among the community to build a loving neighbourhood — Moms would love it!
Mother's Day Fun · Giving Party
Date: 8 May, Sunday
Time: 10am - 12pm
Location: Lachlan's Line Park, Macquarie Park
*Free entry, Free Gifts, Free Refreshments*
*Pre-register to earn a ticket for a Face-Paint. Limited Offer Only!*
Activities
1. Children's Talent Show (Pre-registration now open! Earn a seat for your children to gain on-stage performance in the community!)
2. Face-painting (Pre-register only. Contact us to reserve a ticket for your children's most memorable experience!)
3. DIY Creative Workshop (Draw and create a gift card for mom)
4. Three-legged Race (Family fun time!)
5. Final Lucky Draw (Wait and see your chance to bring home big prizes!)
For pre-registration, please send your interest to sales@triplesproperty.com.au
If you have any enquiries regarding the party, you're also welcome to leave us a comment!
---
---